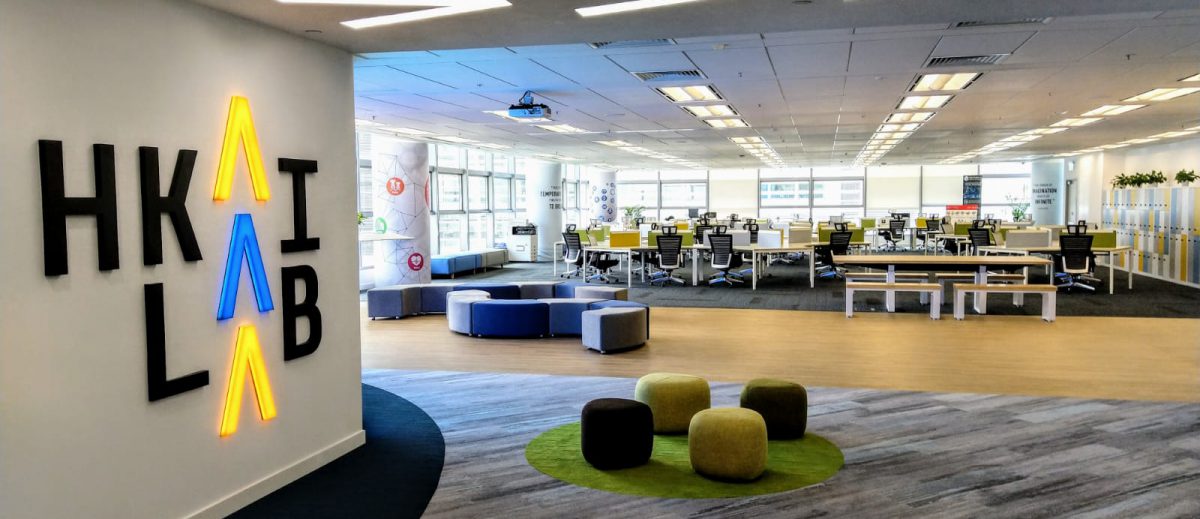 HKAI LAB – Portfolio
Cohort startups
First batch
1. Arical Limited
Arical's AI cloud platform enables property developers, property advisers, urban planners and architects to easily generate urban plans, architectural and interior designs from big data, providing exceptional flexibility in changing market conditions, accelerating the property development process, and discovering creative and novel designs beyond human imagination. 

For details: https://arical.ai/ 
2. Advwhere Limited
Cloudbreakr is the platform developed by Advwhere Limited. Powered by machine learning, Cloudbreakr analyzes social data across platforms to help brands to analyze and optimize influencer marketing performance. Its key technology includes Natural Language Processing and vision analysis. 

For details:  www.cloudbreakr.com 
3. Dayta AI Limited
Cyclops of Dayta is an AI-powered smart space analytics system which can processing large amount of image data and generate groundbreaking insights of any target venue. The key technologies employed by Dayta include human tracking and sentiment analysis. 

For details: https://dayta.ai/ 
4. Farseer Limited
Farseer is an AI-powered smart investment analytics platform with cloud & API solutions around risk management (KYC & data driven asset price alert), investment research (post-MiFid II focus) & IR optimization, focus to empower a more efficient financial ecosystem. Farseer's proprietary cloud engine combines search, text analytics (Chinese NLP in particular), knowledge graphs & machine learning algorithm, to extract real time financial related alternative data from across millions of unstructured context, according to clients' criteria & output/alerts format, with user-defined sentimental weightings, through 24/7 web & App access, to significantly reduce, digitize & automate risk management & research effort. Farseer's clients include security brokers, institutional investors, corporates, etc. across HK & China. 

For details: www.farseerbi.com 
5. RaSpect Intelligence Inspection Limited
RaSpect is an AI-powered architecture inspection company. We are developing a brain for building inspection which improve the safety of architectures and reduce the economic loss and human life. Through the use of satellite data, built-in IoT sensors, and automatic drone inspection,  RaSpect can effectively assess the potential risks of architectures and calculate the degree of damage after comprehensive analysis of the above data. In general, our solutions not only provide more accurate inspection and analysis than traditional practices, but also save more than 50% of the time and cost. RaSpect's mission is to create a safer, smarter society through AI inspection technology. 

For details: https://www.raspect.co
6. Squared-S Holdings Limited
A B2B fintech company that provides AI driven solutions for investment and risk analysis to financial institutions. Its key technology includes portfolio optimization and risk management. 

For details: www.squared-s.com 
7. Platinum Black Limited
Platinum Black's Social Face is an intelligent platform, supporting social events held in the Greater Bay Area of China. It uses advanced technologies such as big data analysis and artificial intelligence algorithms to help event organizers and attendees improve social networking efficiency and quality. Three core functions of Social Face includes intelligent AI report, instant photo album sharing, and smart network recommendation.
Second batch
1. Regtics Limited
Regtics Limited is developing a compliance solution to assist financial institutions in complying with international and local anti-money laundering and counter-financing of terrorism regulations using AI and big data technology. The solution contains three main modules: transaction monitoring, customer due diligence and name screening.

For details: www.regtics.com 
2. EchoX Technology Limited
EchoX Technology Limited focuses on deep learning technology and products for ultrasound imaging.
3. Customindz Limited
Customindz Limited focuses on a one-stop construction AI platform for equipment, safety and quality detection. 

For details: www.customindz.com 
4. Pokeguide Limited
Pokeguide Limited provides a geographical smart city solution for the general public, consumer brands, shopping malls and merchants. 

For details: www.pokeguide.com 
5. Applied Technology Group Limited
ClinicONE, developed by Applied Technology, is a one-stop healthcare and medical diagnostic platform for Precise Medication, Seamless Patient Journey and AI Health Record Management, in preparation for the new generation of smart clinics. 

For details: https://clinic1.one 
6. HoHo Living Technology Limited
HoHo Living Technology Limited is a smart gerontech company that aims to improve quality of life and enhance both indoor and outdoor safety to protect elderly and support care givers. 

For details: www.hoholiving.com