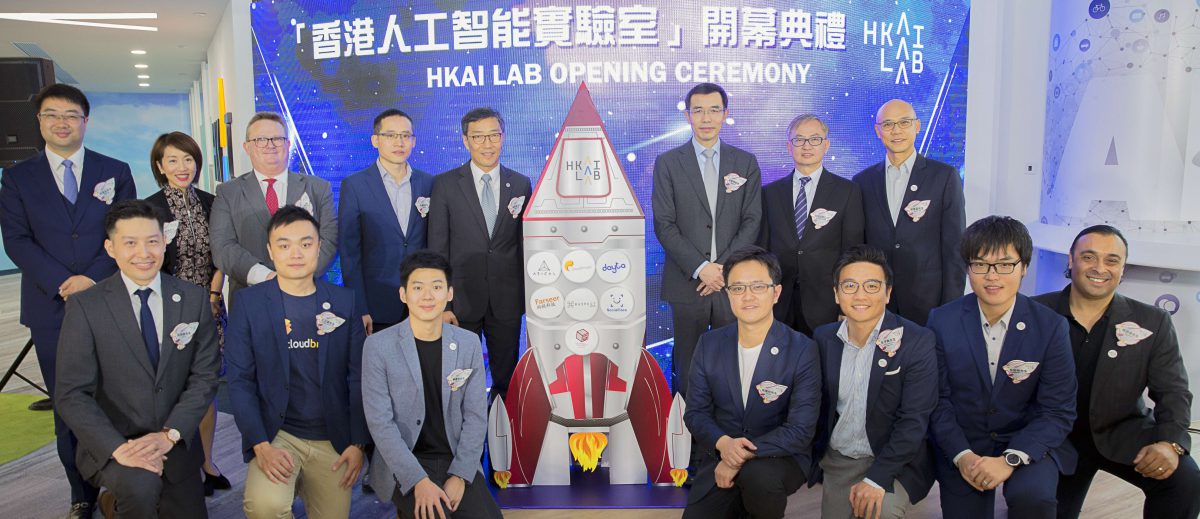 Hong Kong, 18 October 2018 – Hong Kong AI & Data Laboratory Limited (HKAI Lab), jointly established by Alibaba Group (NYSE: BABA), SenseTime and Hong Kong Science and Technology Parks Corporation (HKSTP), has started operation since September. The not-for-profit initiative aims to nurture local artificial intelligence and data talents, boost development of technology in Hong Kong, and turn the city into a global hub for innovation and creation. The first batch of startups under the Lab's six-month Accelerator Program moved into HKAI Lab earlier this month.
Besides receiving funding of USD100,000 from Alibaba Hong Kong Entrepreneurs Fund, startups are given access to proprietary AI technologies, cloud computing and network resources, along with working space. They will have chances to collaborate with Alibaba, SenseTime and other local and overseas enterprises and investors to speed up the commercialization of their projects.
"Having an excellent pool of scientific research talents, diverse and inclusive business environment, as well as supportive government policy, Hong Kong has the potential to become an important hub for promoting innovation and technology," said Jeff Zhang, Chief Technology Officer of Alibaba Group, "The first batch of startups not only have innovative technologies and unique business ideas, they also offer insightful solutions to addressing key issues, including smart mobility and FinTech. We truly believe, under the incubation of HKAI Lab with supports from HKSTP, Innovation and Technology Bureau, Innovation and Technology Fund, SenseTime and Alibaba, startups in Hong Kong can have more room to grow, and together, we can elevate Hong Kong to become a hub for innovation and technology across the region."
"SenseTime partners with Alibaba and HKSTP to help startups commercialize their technology projects and foster collaboration between the industry, academia and research sectors. To help promising startups at early stage, we provide all-round supports including funding, technology, network infrastructure and working space. With Hong Kong's excellent business environment and international talent pool, HKAI Lab will facilitate innovations, attract more technology talents and companies, and create more opportunities for young people. We're committed to contributing to the initiative of making Hong Kong an international innovation and technology hub," said Prof. Xiao'ou Tang, Founder of SenseTime.
HKSTP Chief Executive Officer Albert Wong said, "AI is a major technology focus for HKSTP and has the potential to disrupt various fields, from finance to social media, construction, logistics and many others. We are fostering a comprehensive platform to support AI development, offering infrastructure, data, testing, partnerships and other vital measures. Today, we are pleased to witness the expansion of the innovation and technology ecosystem of Hong Kong. HKAI Lab showcases how partnerships between the government, industry, academia and research communities help fuel innovation and technology development. HKSTP will extend incubation support to the start-ups in the HKAI Lab acceleration programme through the Incu-Tech programme. We expect to groom 10 to 20 AI startups every year. Our ultimate goal is to make Hong Kong an AI solution hub."
The first batch of startups in the program are focused on sectors including urban planning, influencer marketing, B2B solution, FinTech, property inspection and social networking:
Arical – Arical empowers architects, urban planners and property developers through an AI cloud platform that instantly and automatically generates architectural design proposals from big data. Key Technology: Deep learning, computer vision, Natural Language Processing and knowledge graph.
Cloudbreakr – Powered by machine learning, Cloudbreakr analyzes social data across platforms to help brands to analyze and optimize influencer marketing performance. Key Technology: Natural Language Processing and vision analysis.
Dayta – A B2B AI solution provider that aims to create value-added intelligence for businesses, empowering SMEs with the power of machine learning at ease. Key Technology: Search and recommendation technology.
Farseer – The company licenses proprietary big data and AI solutions in the form of SaaS and API for financial ecosystems primarily in HK, China and US secondary markets. Key Technology: Natural Language Processing (Chinese) and big data.
RaSpect – An AI-powered predictive inspection company for architecture with the aim to create a safer and smarter society. Key Technology: robotics, AI and IoT.
Social Face – An intelligent platform in Hong Kong that provides live photo album service to help event organizers and attendees improve social networking's efficiency and quality. Key Technology: Intelligent AI report, instant photo album sharing and smart network recommendation.
Squared-S – A B2B FinTech company that provides AI driven solutions for investment and risk analysis to Financial Institutions. Key Technology: Portfolio optimization and risk management.
"HKAI Lab is Hong Kong's first AI technology development platform powered by high-performance computer resources and deep learning. We hope the startups we're incubating will lead in AI development and create more innovative solutions and applications," said Timothy Leung, Executive Director of HKAI Lab. "We are looking forward to working with Hong Kong tertiary educational institutions, as well as private companies dedicated to strengthening their R&D investments. We hope to build HKAI Lab as a platform that connects research, business and education sectors. The aim is to significantly stimulate innovation and enhance Hong Kong's competitiveness in the region."
HKAI Lab's Accelerator Program will offer two intakes every year, each with 6 to 10 startups. Selected startups will be provided with series of cloud computing and AI resources support, including GPU-equipped high-performance computer resources from Alibaba Cloud, support from Alibaba DAMO Academy, a global research program created by Alibaba Group. At the same time, SenseTime will provide deep-learning platform and AI solutions to participating startups. In addition, they will receive advice from the Lab's advisory board, which consists of leading AI scientists, entrepreneurs and experienced professors. Moreover, HKSTP will offer free working space and incubation support of its Incu-Tech program to the participating startups.
For more information about HKAI Lab, the Accelerator Program and requirements for applicants, please visit: https://www.hongkongai.org.
About HKAI LAB
HKAI LAB is a platform for bringing together academics, scientists, and entrepreneurs in AI who are passionate about innovation and creating a better future. HKAI LAB is focused on advancing the frontiers of AI with cutting-edge technologies and expertise, and empowering startups to commercialize their new inventions. The lab is dedicated to fostering a community of dynamic talents that will help build a vibrant culture of entrepreneurship in Hong Kong.
About Alibaba Group
Alibaba Group's mission is to make it easy to do business anywhere. The company aims to build the future infrastructure of commerce. It envisions that its customers will meet, work and live at Alibaba, and that it will be a company that lasts at least 102 years.
Alibaba DAMO Academy, which stands for the "Academy for Discovery, Adventure, Momentum and Outlook," is an innovative global research program set up by Alibaba Group to increase technological collaboration worldwide, advance the development of cutting-edge technology and strive to make the world more inclusive by narrowing the technology gap.
Alibaba Hong Kong Entrepreneurs Fund is a not-for-profit initiative launched by Alibaba Group in 2015. The Fund's mission is to help Hong Kong-based entrepreneurs and young people realize their dreams and visions for their businesses and communities.
About SenseTime
SenseTime is the world's most valuable artificial intelligence (AI) unicorn focused on computer vision and deep learning. The company has raised a total financing of more than US$1.6 billion and is valued over US$4.5 billion. Entrusted by the Ministry of Science and Technology of China to establish the National Open Innovation Platform for Next-Generation Artificial Intelligence on Intelligent Vision, SenseTime is the fifth national AI platform in China (along with Baidu, Alibaba Cloud, Tencent and iFLYTEK).
With the mission of leading AI innovation to power the future, SenseTime has independently developed a deep learning platform, supercomputing centers, and a range of AI technologies such as face recognition, image recognition, object recognition, text recognition, medical image analysis, video analysis, autonomous driving, and remote sensing. In doing so, SenseTime has become China's largest AI algorithm provider.
SenseTime leads the market in almost all vertical industries, including smart city, smartphone, mobile Internet, online entertainment, automobile, finance, retail, education, real estate, and so forth. The company boasts more than 700customers and partners in China and overseas, including world-renowned institutions and companies such as Massachusetts Institute of Technology (MIT), Qualcomm, NVIDIA, Honda, Alibaba, Suning, China Mobile, UnionPay, Wanda, Huawei, Xiaomi, OPPO, vivo, Weibo.
The company has offices in Hong Kong, Beijing, Shenzhen, Shanghai, Chengdu, Hangzhou, Kyoto, Tokyo and Singapore.
For more information, please visit SenseTime's website as well as LinkedIn, Twitter and Facebook pages.
About Hong Kong Science and Technology Parks Corporation
Comprising Science Park, InnoCentre and Industrial Estates, the Hong Kong Science and Technology Parks Corporation (HKSTP) is a statutory body dedicated to building a vibrant innovation and technology ecosystem to connect stakeholders, nurture technology talent, facilitate collaboration and catalyze innovations to deliver social and economic benefits to Hong Kong and the region.
Established in May 2001, HKSTP has been driving the development of Hong Kong into a regional hub for innovation and growth in several focused clusters including Electronics, Information & Communications Technology, Green Technology, Biomedical Technology, Materials and Precision Engineering. We enable science and technology companies to nurture ideas, innovate and grow, supported by our R&D facilities, infrastructure and market-led laboratories and technical centers with professional support services. We also offer value-added services and comprehensive incubation programs for technology startups to accelerate their growth.
Technology businesses benefit from our specialized services and infrastructure at Science Park for applied research and product development. Enterprises can find creative design support at InnoCentre, while skill-intensive businesses are served by our three industrial estates at Tai Po, Tseung Kwan O and Yuen Long. More information about HKSTP is available at www.hkstp.org.
For media enquiry, please contact:
Alibaba Group
Crystal Liu
Deborah Tsui
Email: crystal.liu@alibaba-inc.com
Email: Deborah.tsui@alibaba-inc.com
Tel: +852 – 6378 5626
Tel: +852 – 9372 2226
SenseTime
Frankie Chan
Email: frankychan@sensetime.com
Tel: +852 – 3905 1916
Hong Kong Science and Technology Parks Corporation
Sam Yan
Email: sam.yan@hkstp.org
Tel: +852 – 2629 6743